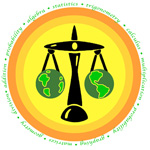 Conference Program (PDF)

Youth Film & Panel Discussion
Film: "Schooling Baltimore Street" Created by young people involved in the Baltimore Algebra Project, this social commentary on the poorly funded inner-city public schools in Baltimore, exploded with a voiceover slam poem, pictures of the degraded public school buildings and the activist groups
that are trying to do something about it. Interviewing and filming activists as they stormed city hall in an attempt to make politician Nancy Grasmick live up to her promises to better fund education, "Schooling Baltimore Street" proves that revolutionary young minds can and do have an impact on federal policy and on the issues that matter to them personally.
How Unfair Is It? Analyzing World Resource Distribution in Mathematically Rigorous Ways
In this workshop we will examine a series of developmentally appropriate and challenging mathematics lessons done with 2nd – 6th graders using data about world resource distribution. We will use these sample lessons to explore the larger question of how to design high-cognitive demand mathematics activities which help children build stronger conceptual mathematics skills while
simultaneously helping them understand social injustice.
Equity in Assessment: What Does it Mean to be Smart at Math?
The National Council for Teachers of Mathematics considers "equity" as a core principal for evaluating assessment programs in a classroom or department. In this workshop, participants will have an opportunity to discuss puzzles and strategies regarding the development of equitable assessment.
Running the Numbers on Preserving our Past
Students in the communities of Hatch, and Los Lunas, New Mexico will illustrate a collaborative project which combines student labor and the study of adobe preservation in New Mexico. Students from both schools have been studying and laboring in order to restore an adobe building in Hatch that was damaged by flooding. The construction and economic mathematics of this project will be outlined during this presentation.
Powers to the People: Unit Projects for Algebra 2 and Pre-calculus
In this interactive session, participants will explore mathematics projects from Algebra 2 and Pre-calculus that integrate the curricular objectives of upper level mathematics with real-life social justice themes. With a focus on mathematical modeling, projects will include topics such as linear inequalities, exponential functions and logarithms, and regression analysis of a set of data.  Participants will work through the mathematics of the projects, examine student work and brainstorm projects for other topics in the Algebra 2 /Pre-calculus curriculum.
You Gotta Problem – The Electoral College: Is it Fair?
Join the NYC Math Exchange Group (MEG), a teacher collaborative in Adult Basic Education, to explore the pedagogical stance of teaching through problem solving. The workshop will examine the Ugrabit Problem, a non-routine problem that focuses on the U.S Electoral College to pose mathematically the historical question of social justice: Is it fair? We will show video clips of our adult students engaged in the problem at the heart of the denial one person, one vote.
Other Peoples' Children: Honoring Cultural Differences and Teaching with Integrity
This workshop is geared toward white teachers who work primarily with high school and middle school students of color. Trust is essential for learning. It is
our belief that it is the teacher's responsibility to earn the trust of their students. In this workshop we will focus on the complexities of earning that trust given the power dynamics that comes from white privilege. We will explore these issues and work together to provide viable solutions.
Bridging the Gap: When the Ordinary Becomes Extraordinary
We will determine how we can bridge mathematics and a student's world through applications they come into contact with on a daily basis. We will conduct activities demonstrating the seamless flow of mathematical content and its natural occurrence in the world. You will see how we can make something ordinary look extraordinary through a mathematical lens. For example, an airplane is not just a flying object, a rocket can launch in your classroom, and a scrapbook is not simply a collection of photographs.
Tupac Numerology, Ishango History, and Youth Multimedia Research
In this workshop, juniors from East Oakland Community High School will present: (1) A student-conducted School Accountability Report Card (SARC), whereby students develop statistical and multimedia research skills in SPSS, Final Cut Pro, and PowerPoint. (2) The Number Theory project in which students link culture to mathematics, through youth multimedia public lectures on trigonometry, numerology and number theory. (3) The East Oakland Index in which students create an index of quantitative indicators reflecting the state of society.
They Came Before Pythagoras: Non-European Contributions to Modern Mathematics
The session will discuss the absence of African and other indigenous cultures in today's math curriculums. Information from Crest of the Peacock: Non European Roots of Mathematics by George Gheverghese Joseph, Civilization or Barbarism by Cheikh Anta Diop and other literature will be used to highlight the many cultural achievements of pre-European mathematicians. Examples of world culture in textbooks and class materials will be provided to illustrate the importance of cultural inclusion and how this inclusion assists students in transcending the requirements of the educational standards.
Learning about Social Justice Mathematics from High School (Youth)
Several Chicago public high school students will take session participants through a social justice mathematics project that the students did in their mathematics classes. The project is about racial profiling. Participants will learn about probability simulations and how they can use mathematics to "check up" on the police and verify if police are really stopping people randomly or if something else is going on. We will look at data from a real racial profiling suit filed in Illinois against the police.
Engaging Minds and Bodies through Math
North Brookfield stands in the center of Massachusetts, a poor, rural town nameless to the bustle of Boston. With limited financial capital, after-school educators here draw upon human resources and the creative spirit. Our workshop will offer a glimpse into the ways youth and adults at this Youth Center teach and learn about math and life through FitMath, drumming, and other student-centered activities. In the first half, students and staff will discuss their experiences of teaching real world math and how these experiences have shaped them. In the second half, participants will engage in hands-on
exercises that blend math with physical fitness and music.
Centering on the Teaching of Mathematics to Urban Youth
Centering the Teaching of Mathematics on Urban Youth is a collaborative project between a university researcher and New York City teachers that aims to better understand what teaching mathematics for social justice can look like and how, despite the challenges, teachers learn to approach their teaching of mathematics in such a way. We will describe our collaborative work and individual teachers will share examples of how they have translated these ideas into their classroom practices. There will also be time for questions and discussion with session participants. Students from panel members' schools will also be in attendance.
Using the Oceanic Mattang as a Tool for the Middle School Classroom
Mattangs are indigenous Micronesian tools for passing on centuries of observations on ocean wave behavior to young sailors. In this workshop, we will be building and using Mattangs while discussing best practices of broadening ethnomathematic discussions in the classroom. Attendees will leave the workshop with lesson plans aimed to crystallize student understanding of key points in standard curriculum while growing a deep respect for the ancient culture.
Beyond Barbie: Moving from Scale to Social Justice
In this hands-on session we will focus on how mathematizing Barbie doll in terms of proportional reasoning opens up to a deep interrogation of some
vexing social and cultural issues of our global world. Besides unpacking the relationship between self image, self worth and body image that result in eating disorders such as anorexia, bulimia, we will also look at the labor issues particularly in terms sweatshops conditions – in toy manufacturing.
Making Mathematics Meaningful
Using real data (inequitable salaries by gender, consumption of resources by region, social consequences of World Bank directives to third world nations,
and the like), participants will apply traditional mathematics skills such as graphing, proportional reasoning, and fractions while being encouraged to
engage thoughtfully with the data itself. The mathematics skills are appropriate to the typical curriculum for 5th through 8th grade students.
Connecting Variables: Using Statistical Correlation to Teach Linear Equations and Social Justice
This presentation contains information on an Algebra 2 project that uses extensive census data from Los Angeles to teach low-income urban students how to develop equations of lines by analyzing correlations between variables.  The presentation shows how a math project can meaningfully address issues of social justice and fulfill a school's mission focus on community responsibility while still meeting California math standards and preparing students for standardized tests.
Teaching Ethics in Mathematics Classes
To make it clear that the ability to make reasoned ethical decisions is an important part of expertise in our discipline, we must value it enough to actually devote some time to discussion of ethics in our classes, not merely rely on stand-alone courses that are not viewed by students as an integral component of their professional training. Through case studies, workshop participants
will practice skills needed to facilitate classroom discussions, and then brainstorm ways to integrate discussions of ethics into their courses.
Social Justice via Mathematics Education: A Review of the Research and Implications for Educators
A thorough overview of research in social justice and mathematics education will be presented in this interactive presentation. Inequities in academic achievement, retention, and representation of marginalized groups in advanced math as compared to their mainstream peers are reviewed in depth.  The focus is on research that goes beyond acknowledging issues and actually highlights successful programs. After a presentation, groups will discuss: What are the implications of the research for our own teaching? How should math teachers be prepared to teach for social justice in urban settings?
Children's Impressions of Mathematics
Children are unsure about what it is they are actually learning in many elementary mathematics classrooms. As a way of understanding what children think about math and its importance in their lives, one professor and more than one hundred graduate students interviewed over two thousand students in the New York Metropolitan area about these matters. This session presents
children's responses and teachers might want to hear what these diverse learners had to say.
Using Complex Instruction to Promote Access and Equity in Mathematics Education
Complex Instruction (CI) is a set of principles that address social and academic status differences in classrooms and "enables teachers to teach at a high intellectual level in academically, linguistically, racially, ethnically, as well as socially heterogeneous classrooms". We have spent several years working with students, pre-service teachers and K-12 classroom teachers on complex instruction. Our goal for this panel is to share our different experiences as well as the challenges we have faced as we have engaged in this work as a way of promoting and supporting conversations with more educators around issues of mathematical learning, access and equity.
Incorporating Social Justice in First-Year College MathCourses
In May 2006, about 25 people participated in a workshop on Math & Social Justice at Lafayette College. The aim was to begin a conversation about how to incorporate social justice issues into our college level mathematics courses.  Several people from this workshop, including two of the organizers, will share stories of how they've implemented ideas generated from the workshop.  There will be a range of SJ topics, including environmental justice and voting methods. The overall theme will be a discussion of how we've brought  SJ issues into our first-year courses at the college level and how students have responded. Several classes have partnered with community organizations, so this session will be of interest not only to high-school and college teachers, but also to community leaders seeking advice on how to partner with colleges.
Making Classroom Culture Explicit: Expectations and Equity in Math Classrooms
Many contemporary mathematics teachers utilize a variety of pedagogies that entail certain cultural assumptions about learning, student behavior and the role of the teacher. Often students do not share these assumptions, or are even unaware of them. As a result, they do not engage effectively in their classes, and they and their teachers become frustrated. We will examine several case studies to bring out some of these assumptions and the behavioral expectations that go with them, then we will work on identifying behavioral expectations in the context of specific math classes and ways to make those expectations explicit and to hold students accountable to those expectations.
What is Fair? – 11th Grade Students Create and Analyze Fair Games
One ongoing thread to Fannie Lou Hamer High School's ten-week probability unit is the question, "What is Fair?" In a culminating unit project, 11 th graders create their own fair games and analyze why they are in fact fair. We present the students' games, their explanations of the underlying mathematics, and their analyses of the fairness of their games. We also discuss how the project provided a window into the students' thinking (for both teachers and students) and fostered their taking ownership of their learning.
Teaching Math Through an Economic Justice Lens
This session will provide instructors with economic justice exercises that incorporate math instruction. For example, one exercise teaches about redlining and community reinvestment by showing students how to research the "loan to deposit" ratios of banks in their neighborhoods (ie how much money they bank branch has on deposit vs. how much it lends back out.) Other lessons illustrate the high cost of "rent-to-own" stores; the true cost immigrants pay to send money to family in their home countries; differences in cost between using banks vs. check cashers, and the collective comunity wealth drained by "rapid refund" loans each year. Examples of how math is used in GIS mapping and Census research will also be provided.
What is Out-of-School Mathematics? Analysis of the Research on Mathematics Employed in Non-School Settings and its Implications for the Classroom
This session will relate critical aspects of out-of-school mathematics and their implications for the classroom. A synthesis of findings, as well as research frameworks and methodologies, from international research will provide a coherent representation of mathematics use and learning in everyday settings.  Moreover, out-of-school mathematics learning and use will be juxtaposed against school mathematics to consider ways to make school mathematics more meaningful for students. A critical implication of this analysis is the significance of incorporating students' everyday mathematical behavior into the classroom while also showing the usefulness of school mathematics in students' lives outside of school.
The Flagway Game: A Youth Centered Game as a Catalyst for Math Literacy
There are many different ways to create a cultural context in which mathematics emerges naturally from students' experience. One method used by the Young People's Project (YPP) and the Algebra Project is to create mathematically rich games and experiences. The Flagway Game was developed by Bob Moses in 1995 and is used by YPP as a organizing and math literacy tool.  Through the Flagway Games and league, The YPP seeks to create an opportunity for students throughout the nation to learn and celebrate learning math, in the same way that they learn and celebrate learning basketball. The league will initially target students in grades 3 – 6 and will radically change how and what students learn about their 1st 150 numbers.
Justice on the Job: Narratives from the First-Year Teacher
As part of a secondary math methods course at Pace University, first-year teachers from Teach for America and the New York City Teaching Fellows have designed, developed and implemented changes to their pedagogy that reflect their growing awareness of issues of social justice. Teachers will discuss their beliefs, struggles, and experiences teaching for social justice.
Statistics for Action
The Statistics for Action Planning Project seeks to increase the ways and extent to which adult members of three community action groups make use of mathematics when confronting issues connected to the well-being of their families and communities. The project uses the findings of an initial needs assessment to create and pilot math activities within the groups' meetings in order to increase members' ability to use data to understand and solve problems they have identified and are committed to solving. The project will share preliminary findings and engage conference participants in one or more activities designed in response to community groups' work.